ChiptosX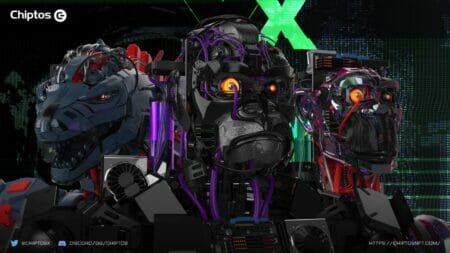 Mint Price
0.088 ETH
Total supply
7680
Mint Date
About the Project
From the team that brought you Chiptos 512 Genesis, Chiptos X is the next generation collection of 7,680 high-quality 3D rendered robots uniquely made with computer parts.
Chiptos were originally physical pieces of art, digitally brought to life as the 512-piece Genesis collection, which currently sits at 2.2k volume and a 1.7 ETH floor.
The Chiptos team are building a long-term Metaverse and PC Hardware brand to further grow their established community of Web3 enthusiasts.  We are a community for hardware and gaming enthusiasts!  Chiptos will continue development on physical goods such as keyboards and cases, post launch, with the ultimate aim to grow the hardware brand alongside our NFT collections.
Co-founder and Artist https://twitter.com/CamTaylorArt  brings 12 years of gaming industry experience working at EA Sports; FIFA. Cam combines experience in gaming, art, design, Web 2, and Web3 to set the vision for the future of Chiptos.
Chiptos X will give you membership benefits including upcoming Metaverse Avatars, future PC hardware utility, events, and merch!
Discord Members
Twitter Followers