Cosmic CyberBoys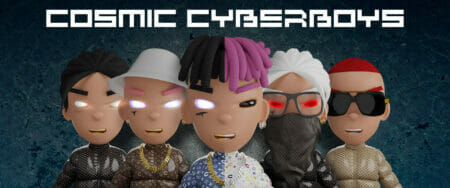 Mint Price
0.35 SOL
Total supply
250
Mint Date
About the Project
250 Unique Cosmic CyberBoys is forming a strong family in eSports sphere.
This is a community driven project on Solana. Community called CosmicJam famous among PUBG Mobile players mostly, but also CosmicJam community is represented in GTA 5 RP.
The main utilities of our NFT are:
– Giveaways between NFT holders;
– Access to closed prize customed games between NFT holders;
– Access to private events with eSports streamers, bloggers and players;
– Ability to represent CosmicJam in any eSports game;
– Any kind of help from Community;
– Essential help with promotion in medias for NFT holders;
– Closed meetings and parties featuring famous eSports players and streamers in real life.
Join Us!
Discord Members
Twitter Followers