Fake Banksy Punks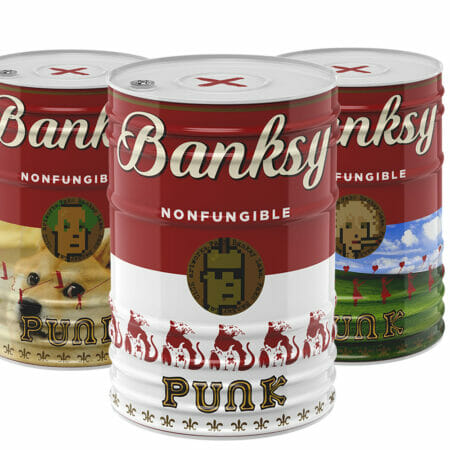 Mint Price
0.035 ETH
Total supply
10000
Mint Date
About the Project
The Fake Banksy Punks is a collection of 10,000 unique 3D hyper-realistic Pop art photographic NFTs living on the Ethereum blockchain.
Today, mainstream and social media networks have become our primary sources of staying current in world events; these key platforms have chosen to manipulate and present misinformation as facts while concealing and covering up the truth. When the truth has been buried six feet underground, there would be no difference between a Real and a Fake one, so the only thing that remains is a dirty, dirty bloody lie. Fake Banksy Punks is a Graffiti/Pop-art combo collection representing our protest of mainstream and social media manipulation/disinformation and the negative impacts on humanity.
Join our revolution against this madness. When we become one, they won't dare to ignore us anymore<3
Pre-Sale minting is now live : 0.035 Eth
Public-Sale : 0.05Eth
Reveal Date: April 27
*FAKE BANKSY PUNKS DEPLOYED ON ERC721A SMART-CONTRACT, WHICH IS THE LATEST NFT SMART-CONTRACT AVAILABLE(MADE BY AZUKI TEAM), AND BECAUSE OF THAT, OUR GAS FEE REDUCES TREMENDOUSLY TO 6-25$ FOR MINTING UP TO 5 NFTS IN ONE SESSION.
CiCK (°1974, MetaVerse) makes conceptual artworks and media art. By manipulating the viewer to create confusion, CiCK often creates several practically identical works, upon which thoughts that have apparently just been developed are manifested: notes are made and then crossed out again, 'mistakes' are repeated.
Her conceptual artworks are on the one hand touchingly beautiful, on the other hand painfully attractive. Again and again, the artist leaves us orphaned with a mix of conflicting feelings and thoughts. By using popular themes such as sexuality, family structure and violence, she touches various overlapping themes and strategies. Several reoccurring subject matter can be recognised, such as the relation with popular culture and media, working with repetition, provocation and the investigation of the process of expectations.
Her works are saturated with obviousness, mental inertia, clichés and bad jokes. They question the coerciveness that is derived from the more profound meaning and the superficial aesthetic appearance of an image. By demonstrating the omnipresent lingering of a 'corporate world', she makes works that can be seen as self-portraits. Sometimes they appear idiosyncratic and quirky, at other times, they seem typical by-products of American superabundance and marketing.
Her works often refers to pop and mass culture. Using written and drawn symbols, a world where light-heartedness rules and where rules are undermined is created. By parodying mass media by exaggerating certain formal aspects inherent to our contemporary society, her works references post-colonial theory as well as the avant-garde or the post-modern and the left-wing democratic movement as a form of resistance against the logic of the capitalist market system.
Her works demonstrate how life extends beyond its own subjective limits and often tells a story about the effects of global cultural interaction over the latter half of the twentieth century. It challenges the binaries we continually reconstruct between Self and Other, between our own 'cannibal' and 'civilized' selves.
Discord Members
Twitter Followers