Meta Ape Gang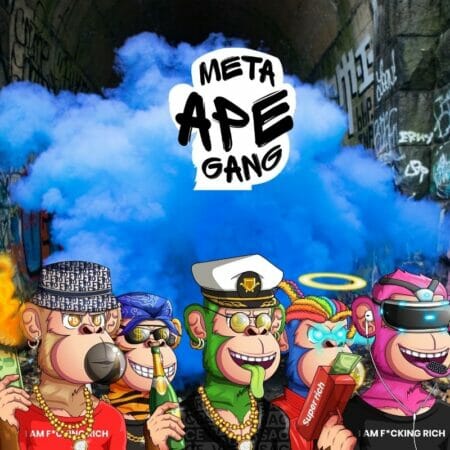 Mint Price
1.5 SOL
Total supply
2222
Mint Date
About the Project
😎 We are the Meta Ape Gang 😎
The Meta Ape Gang is a collection of 5,555 unique 2D characters rendered as NFTs on the Solana Blockchain created from multiple unique features and traits symbolic of wealth, affluence, luxury, and of course, the good life. Our NFT collection includes some of the coolest gangsters and lords ruling the modern Metaverse Society.
Our NFTs representative characters within the ecosystem and connect members all over the Metaverse, providing them with an opportunity to earn income.

Meta Ape Gangsters love to live life outside the box. They are bossy, intelligent, cool, and enjoy living their distinctive lifestyle on the fringes of The Metaverse's society.

The Meta Ape Gang is buoyed by a sense of common identity. While we cherish freedom and want a life of positivity, money (freedom) is what we value most. Every member of the Meta Ape Gang has identifying characteristics unique to the gang.
🤑 Community first: get Rich Together 🤑
Our mission is simple. The Meta Ape Gang NFT is specially created to impact every holders' lives. Our goal is to maximize profits for everyone who can mint one of our unique Meta Ape Gangs NFT. At the end of the day, we aim to be rich together so we can live our lives to the fullest and in ultimate freedom.
🌎 Real-world utilities for holders 🌎
The Meta Ape Gang is a Solana NFT project that offers real-world utilities for its holders such as discounts at hotels, fashion cheques, vouchers, tickets, activities, goods and many more so they can enjoy best of both worlds.
💋 
2nd Generation NFTs: Meta Bape Gangsters 💋
Every Gangster Ape needs a Gangster Bape. Our 2nd generation NFTs, Meta Bape Gangsters, come with many perks, including unique benefits for holders of our 1st generation NFTs.
🍼 Breeding: babies are coming! 🍼
Holders of a 1st & 2nd generation NFT will have an exclusive opportunity to breed a Free Gangster Bapey (Ape) NFT. Let's start our families!
🧩 
Meta Ape Gang Gameplay 🧩
Meta Ape Gang NFT holders can deploy their NFTs as playable characters in the Metaverse. Similarly, gameplay sessions will allow players to earn tokens, which they can use for multiple purposes, including transactions within the Meta Ape Gang gameplay ecosystem.
Discord Members
Twitter Followers