Metagalactic Heroes – The Awakening of Jesusaurus Rex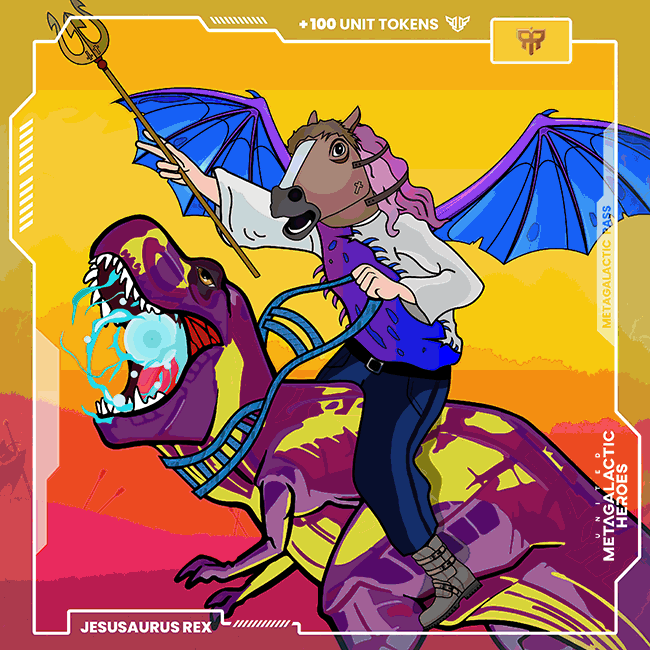 Mint Price
1 SOL
Total supply
1500
Mint Date
About the Project
CHAPTER ONE | THE AWAKENING OF JESUSAURUS REX
With Galactic war imminent, a cyborg scientist desperately searching for ways to avoid untold death and destruction that such a conflict would bring, came up with a far-fetched plan. After countless hours of research, he finally made a breakthrough. Using the blood of Jesus Christ gathered from the remnants of the infamous crown of thorns he was forced to wear before his crucifixion, the scientist successfully cloned the son of God himself. Now he has returned, dismayed at the state of the world he once sacrificed himself for. This time he plans to take a more direct stand against evil and will protect the whole metagalaxy by any means necessary!
800+ ATTRIBUTES MAKE EACH JESUS HERO NFT AS UNIQUE AS IT CAN BE
145 DIFFERENT BACKGROUND LOCATIONS
15 DIFFERENT WEATHER CONDITIONS APPLIED ON TOP OF EACH NFT
63 UNIQUE JESUS OUTFITS (PERSONALITIES)
4 DINOSAUR TYPES
37 DINOSAUR SKIN TYPES
84 DINOSAUR SUPERPOWERS
8 DIFFERENT TREX EYES (VISION)
30 DIFFERENT DINOSAUR SADDLE TYPES
45 UNIQUE JESUS PANTS STYLES
67 UNIQUE JESUS SHOES
32 JESUS HAIR COLORS
6 JESUS BEARD STYLES
54 JESUS FACIAL EXPRESSIONS
80 UNIQUE JESUS HEADWEAR STYLES
143 DIFFERENT WEAPONS
24 DIFFERENT SHIELDS
HOW IS RARITY DETERMINED?
Chapter one collection has a double rarity system.
RARITY SYSTEM A
Metagalactic Heroes NFT collection is one of the first collections that has a rarity level built in the NFT itself – simply look for the corresponding rarity symbol displayed on the top right corner of your NFT. This rarity is determined by 4 different dinosaur beast types.
Ordinary = herosergeant: Trex beast – 1000 NFTs
Rare = Cornotaursu beast – 350 NFTs
Epic = Raptor beast – 100 NFTs
Legendary = Dilophosaurus beast – 50 NFTs
RARITY SYSTEM B
Rarity is based on the number of times a single attribute is used across the whole collection. After chapter one ends you will have an option to check the rarity of your Jesusaurus hero NFT attributes on the Metagalactic Heroes rarity app.
LIMITED EDITION ASSETS
The unique outfits, guns, and dino beasts you get with your Jesus hero NFT you can use and equip on your in-game hero character. These outfits and accessories are limited edition and you can only get them with the chapter one NFT. When the Metagalactic Marketplace launches in Q2 2022 you will have the chance to redeem your chapter one NFT and get in return new Gun NFT, Dino NFT, Jesus hero NFT and you will be able to sell them to others to get more profit.
1000-2000 $UNIT TOKENS
All 1500 NFTs come with a preset amount of Metagalactic Heroes utility token $UNIT. The amount you can get varies from 1000-2000 $UNIT tokens. The amount you get you can see on each Jesus NFT top right corner. (Unit token is as regular crypto and it will be launched in April 2022)
GAME EARLY BETA ACCESS
Owning a chapter one NFT grants you rights to be among the first 2500 players who will try the game beta release before everyone else can play it. Each Chapter one NFT serves as an early access ticket.
+4 UNIQUE IN-GAME CHARACTERS
Holders of chapter one NFT are guaranteed to get 4 free in-game characters
"Doc the Cyborg", "Ape Caesar", "Scarlett Goldy" and "Aurora" once the Metagalacitc Marketplace is launched. These characters will never be sold separately by us, they are limited edition and amount.
+1 FREE DINO BEAST NFT
There are four chapter#1 dino beasts – Trex, Carnotaurus, Raptor, and Dilophosaurus.
You will receive a free Dino NFT airdrop of the beast that you will get with your Jesusaurus Rex NFT. For example, if you get your NFT and you see Trex on it, that means that you will get a free Trex NFT on top of your purchase.
+1 FREE CHARACTER NFT
With the purchase of chapter one NFT, you get 1 free "Golden Boy" hero NFT airdropped to your wallet. You can sell this NFT or you can use it in-game and experience the gameplay with this limited edition character. It will never be sold by us anywhere else.
+1 FREE DIGITAL LAND PLOT NFT
15 of 1500 NFTs contain something of high value.
A plot of digital land on the in-game exoplanet Proxima B1.
If you provide the evidence that you hold this NFT, you will get another free NFT that serves as a land deed and grants you the rights to obtain the plot of land.
FULL BATTLE EXPERIENCE
With chapter one Hero NFT you get the full battle experience. Unlocked all in-game special hero ability classes. You can use different outfits, earn double the amount of in-game $UNIT tokens while playing and get all 3 battle modes unlocked – PvP, Battle Royale, and Heroes vs the Chaos creatures.
EXCLUSIVE COMMUNITY ACCESS
By owning a Metagalactic Heroes NFT you get exclusive access to private community channels – you will be the first to know what's planned for the future, and you have a chance to get some unique free airdrops and participate in vital decision making.
UNIT TOKEN IDO WHITELIST
By holding chapter one NFT you get automatically whitelisted for the Metagalactic Heroes' upcoming utility token IDO. The launch is set to be in April 2022.
CHAPTER TWO WHITELIST
By holding chapter one NFT you get automatically whitelisted for the Metagalactic Heroes' upcoming chapter two hero NFT drop.
EXTRA HOLDER BENEFITS
Metagalactic Heroes Nft Asset Staking.
Revenue Share Through Metagalactic Marketplace Sales.
Participate In Community Vault. You Decide On The Use.
Special Giveaways And Nft Airdrops.
Participate in the upcoming Metagalactic DAO
Discord Members
Twitter Followers