PATO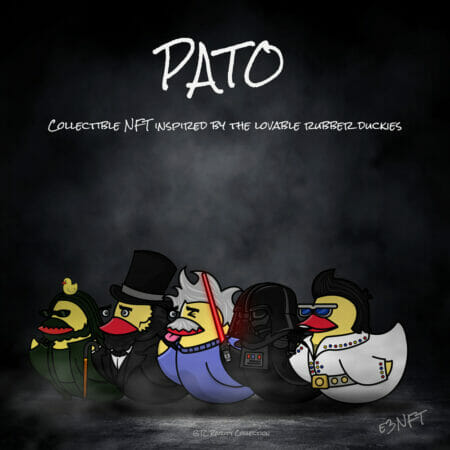 Mint Price
0.03 ETH
Total supply
5000
Mint Date
About the Project
PATO NFT
PATO is a NFT collection inspired by the lovable rubber duckies in your bathtub. Only 5000 will be minted. Each PATO is unique, as the rubber ducks have been created to represent different collectibles characters.
We want that rubber ducks collectors communities have an option to have their digital collections, We will donate 5% of the NFTs to environmental protection organizations.
The collection can be divided into 6 categories of rarity. Each category has a maximum minting limit.
.- Regular: Minting limit 2000 NFTs.
.- Bronze: Minting limit 1290 NFTs.
.- Silver: Minting limit 900 NFTs.
.- Gold: Minting limit 700 NFTs.
.- Diamond: Minting limit 100 NFTs.
.- BTC: Minting limit 10 NFTs.
During the month of April 2022, we will send 50 Airdrops "PATO" NFTs to our Twitter followers that fill the form on our website.
Discord Members
Twitter Followers