[PREPAY] Rêves de Soie NFT Collection by Christian Lacroix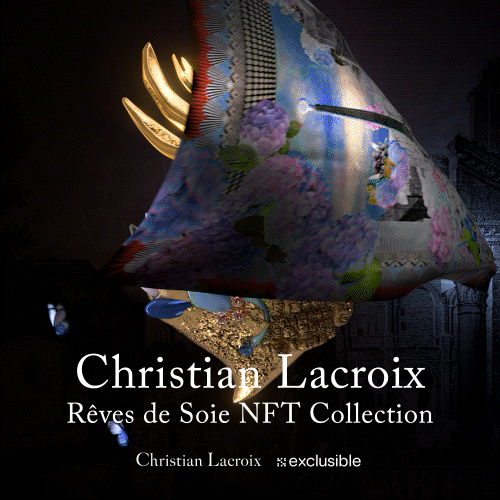 Mint Price
0.4 ETH
Total supply
700
Mint Date
About the Project
Secure your Rêves de Soie NFT and receive the physical version.
PREPAY NOW.
About the Drop:
Perfect balance between refinement and fantasy, wonderful stories, sensorial seduction and personal emotions the Christian Lacroix Luxury Maison is now entering the Web3 and digital space, merging physical and virtual settings to connect with savvy digital shoppers.
With a limited series of 700 3D HD generative NFTs in the form of generated artwork, each token comes in a unique combination of colorways and patterns with a generative soundtrack, making each token even more unique through a combination of visual and audio traits.
True to its innovative heritage, Christian Lacroix delivers a full-on phygital experience by being the first brand to enable NFT holders to redeem the physical product represented in their NFTs for free. It is, in essence, a made-to-order program for Web3 clients and NFT holders, who will have 3 weeks to redeem the physical product.
About the Collab:
Exclusible is collaborating with French fashion and lifestyle brand Christian Lacroix for the House's first NFT collection. The Rêves de Soie NFT Collection will drop on July 8th and revolve around Christian Lacroix's unique and beautifully handcrafted "Carrés" scarves.
Lacroix has the effervescence of a love story- it is vibrant and sensual, romantic and rebellious. To translate the strong brand values into the Web3 environment, the French fashion and lifestyle house has partnered with Exclusible to create a long-term relationship for NFT collections and metaverse projects, offering digital luxury enthusiasts a virtual Lacroix magical experience, where all collectors can dream of and enjoy a luxurious phygital vision.
Discord Members
Twitter Followers