Whaledrop NFTs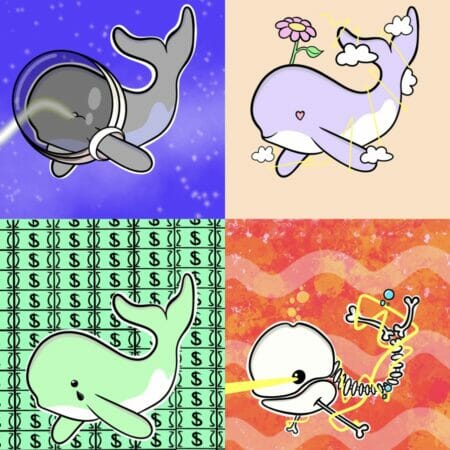 Mint Price
0.08 ETH
Total supply
5555
Mint Date
About the Project
We are extracting 1.000.000kg plastic waste out of the ocean through NFTs. Are you with us?
With each purchased NFT, we will extract >100kg of plastic waste from the ocean
Various companies are already supporting whaledrop as a foundation. Now you can join us in our venture to combine the forces of technology and art to fight the infinite sea of plastic! And the NFT in your collection will show the world that you make all of this possible!
To be part of the movement in the physical world, the plastic collected from the sea will be turned into a granulate, which will then be fashioned into quirky ornaments and unique pieces of art.
The greatest wealth of the seas are not its resources, but rather its limitless inspiration. Therein, whaledrop.io was created; born from the idea that we can defy the status quo, create good things together, and build a better tomorrow because WE were here today. These are the establishing principles of a new kind of foundation setting sail for its maiden voyage….
Discord Members
Twitter Followers